Prestage Foods has been recognized as the "2022 Business of the Year" by the St. Pauls Chamber of Commerce.  CEO John Hott accepted the award on behalf of Prestage Foods at the Chamber's 63rd annual membership banquet in October.
The St. Pauls Chamber of Commerce works diligently to improve the quality of life for residents in the area by supporting and promoting the business community. At Prestage Foods, we too are committed to leaving a positive impact on the community.   We're proud to do our part to enhance our communities by providing quality work opportunities and supporting area businesses to help strengthen the local economy.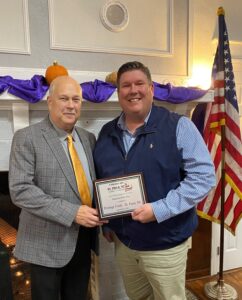 Thank you to the St. Pauls Chamber of Commerce for this recognition.
Jeff Walters of the St. Pauls Chamber (left) and John Hott